Juicykits.com is turning 3 and we're giving away some juicy gifts! We started Juicykits.com with the goal of making it easy for people to do fun, creative activities while we give back to those less fortunate than us. And this April marks our third year in business! What you can do to help us celebrate this month is to donate $1 or more to our fave cause, charity: water, to help communities around the world get access to clean water. As a thank you, we've got some juicy terrarium kits and more to give you!
Thank You all for your support and generosity! Our giveaway drawing has ended and we've chosen the winners at random. See if you're a winner here! Meanwhile, you can still make donations to our charity because you are a good person.
[threecol_two]Did you know that in some places, people have to
walk 2-4 hours each day
just to bring home a few gallons of water for their families?
About 1,400 children die every day
from diseases caused by unsafe water and poor sanitation. That's why we think it's so important (and easier than you think) to help everyone get clean water for drinking, cooking, and sanitation. Just a couple bucks from each of us can help an entire village get access to clean water using simple solutions like drilled wells, spring protections and BioSand filters.
charity: water
uses 100% of public donations to fund these clean water projects! They even track and show you where your money goes with photos and GPS.
Learn more about charity: water
.
[/threecol_two] [threecol_one_last]
[/threecol_one_last]
2 Ways to Donate
[threecol_two]You can use the big
shop on our store
, where you can add a donation to your purchase – we'll bundle everything up and donate on your behalf.[/threecol_two] [threecol_one_last]
100% of all public donations goes directly to water projects.
[/threecol_one_last]
Just A Bit Can Do A Lot
[twocol_one]
We'd reach our goal if 1/2 of our

We'd hit our goal today if just 1/4 of our Instagram followers gave a dollar.

[/twocol_one_last]

Totally doable, right? Donate now.
Thank You Gifts
In East Asian tradition, the number 3 is a lucky number! And we wish you the best of luck because as a reward for helping us raise money for clean water, donors will be entered to win one of three great prizes*:
[threecol_one]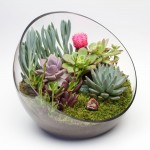 Big Ol' Egg with Terrarium Tool Kit and Juicykits Plant Food ($124 value)[/threecol_one] [threecol_one]
The Egg with Terrarium Tool Kit and Juicykits Plant Food ($100 value)[/threecol_one] [threecol_one_last]
Baby Egg with Terrarium Tool Kit and Juicykits Plant Food ($52 value)[/threecol_one_last] [threecol_one]
3 runners up will receive a Juicykits Terrarium Tool Kit and Juicykits Plant Food for Succulents & Air Plants ($26 value).
[/threecol_one][threecol_one]One lucky winner gets a set of 2 iconic Lotus Green LINO Mugs from our super creative sponsors notNeutral! (Every generous donor gets a special thank you message from us. :)[/threecol_one_last]
Corporate Sponsors
Pioneer Sponsor: Flasking
Our juicy friends at Flasking have volunteered to break the ice by contributing the first $200. So we're going to honor them with our
Pioneer Sponsor
status!
Flasking.com
is an online store that specializes in custom flasks and other cool accessories for drinking and entertaining. Juicy!
Silver Sponsor: XenonSupply
Thanks a lot to our high-tech homies at XenonSupply for pouring in a $100 for clean water!
XenonSupply.com
is a premier retailer of automotive lighting accessories. They make it super easy to turn your standard halogen headlights to brighter, more luxurious HID Xenon lights.
Bronze Sponsor: notNeutral
notNeutral
has donated a set of their iconic green LINO mugs to one of the lucky peeps who gave to during fundraiser. Founded by the award-winning multidisciplinary design firm
Rios Clementi Hale Studios
, notNeutral creates bold, idea-based, accessible objects for the everyday modern lifestyle.
Would your company like to be a sponsor?
[1 Platinum Sponsor] pledges to match your donations!
If we reach our $3,000 goal, our Platinum Sponsor pledges to match the total amount of donations received from non-sponsors.
[Gold Sponsors] pledge to donate $300 or more.
[Silver Sponsors] pledge to donate $100 or more.
[Bronze Sponsors] pledge to donate their products to our drawing winners and for our live event.
*Official Rules:
To be entered to receive any of the gifts, you must have donated $1 or more to charity: water by using our "DONATE" button or by adding a donation to your Juicykits.com order. Your gift delivery address must also be within the continental United States – that means international folks can be entered, but we can only send your gift within the 48 contiguous states. Winners will be chosen at random from a list of donors and donating customers who placed orders during month of April. You may not exchange your gifts for cash, store credit, or anything else. If you are selected to receive a gift and you choose to accept it, you'll also agree to allow us to use your name and location to announce and promote the win. If you live in a place that doesn't allow randomly-selected giveaways, you won't be eligible either. Sorry!
Thanks sincerely for being great people! We're very proud to serve your needs for three whole years. If you love us too, please share this page with your juicy homies.
~ Bao & Team Juicy